Voyantic Supports Machine Manufacturers
Benefits of Cooperation for Label Machine Manufacturers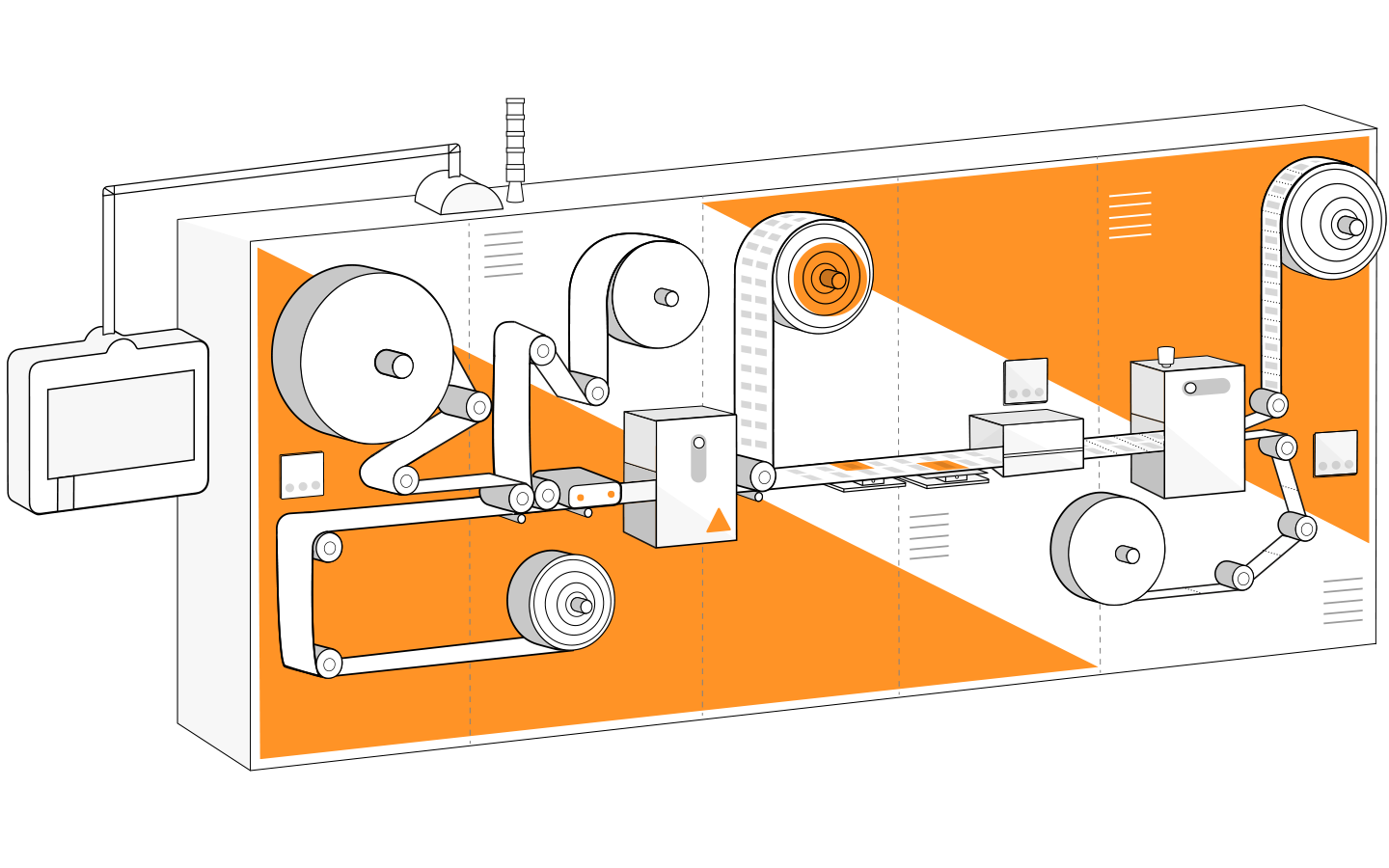 Beyond Components
RFID quality control is more than just a component in a smart label converting machine. It is a central system assuring the quality of produced labels. And it is proving the quality – not just the quality of the labels, but also the quality of the machine itself.
Voyantic offers more than the components. The machine's manufacturer and machines' users get the most out of the Quality Control (QC) systems with close, long-term cooperation with Voyantic.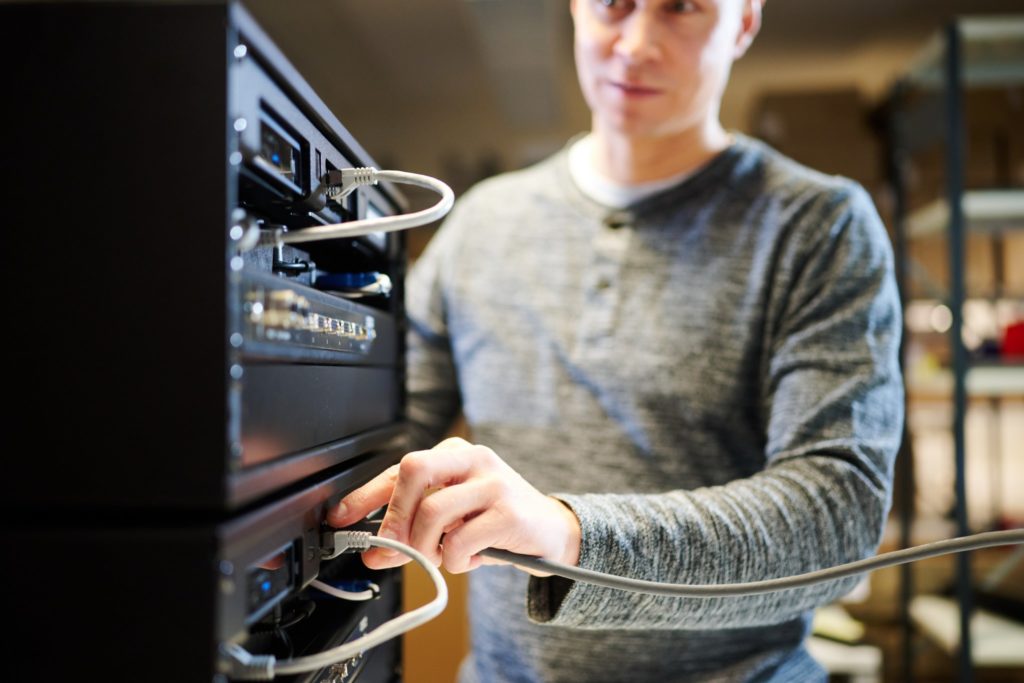 Why Voyantic
Voyantic is a leading supplier of quality control systems for RFID (RAIN RFID and NFC) label manufacturers. Voyantic is the only company in the world focusing 100% on the quality and performance of RFID tags, helping label manufacturers to reach excellent quality and performance in RFID all around the globe.
The concept of quality of RFID is still new for some smart label users, manufacturers, and machine suppliers. RFID quality cannot be visually seen – not with the human eye or with machine vision. The quality of RFID can be determined only with specialized methods using the RF properties of the labels. Voyantic is the pioneer in these quality testing methods.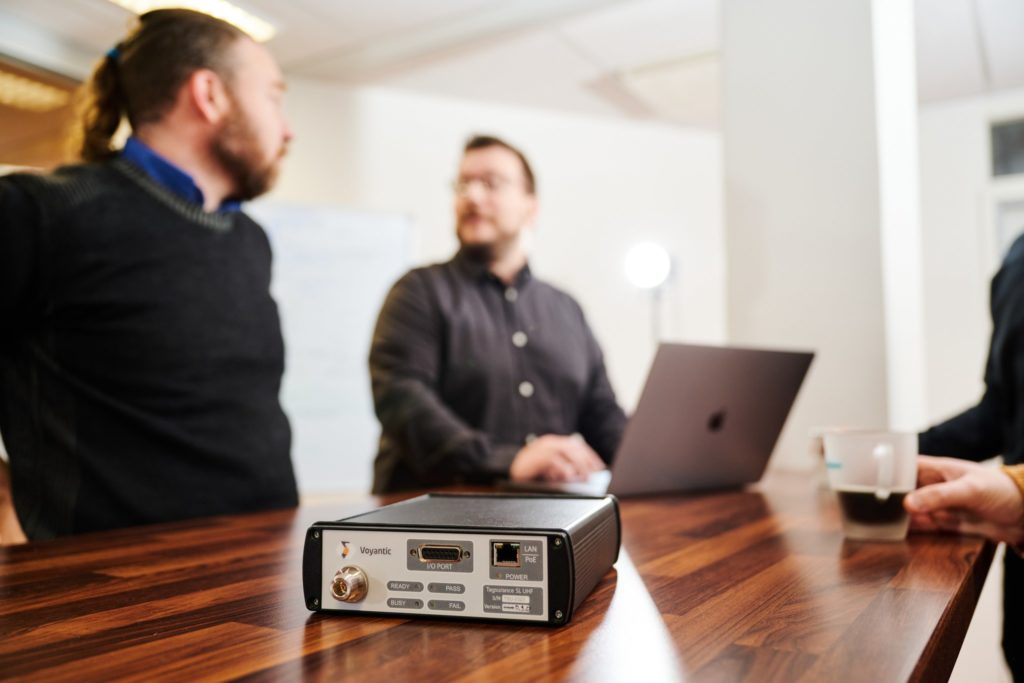 Dedicated RFID Expertise
For successful implementation of Quality Control (QC) in RFID label machines, Voyantic's goal is to offer more than just ship the QC system components. The machine manufacturer will not be left alone, but Voyantic shares the pains and effort for quality delivery.  There are benefits of working closely with Voyantic from strategic decisions to operational questions from machine development to sales, delivery projects, and long-term customer support.
Benefits of Cooperation
Voyantic is a member of major RFID industry organizations and continuously follows the RFID market, including market trends, development of standardization, and technology development.
Industry insights are shared in Voyantic webinars and blogs, and industry experts are available to spar with machine manufacturers on their strategic choices.
There are a number of decisions with numerous choices related to a QC system for a machine designer starting from scratch:
Which accessories would be optimal?

how components should be placed?

what kind of adjustment possibilities should be reserved for the future?

and so on…
Voyantic can assist in selecting the right components and correct system build.
Voyantic has experience with several machine integrations and can advise on optimal approach that provides the best customer experience
Voyantic can advise on integration and system details for making the system implementation future-proof.
The Voyantic Tagsurance system is widely used and well-tested in production. There are hundreds of systems in continuous use in label production.  There is no question about the system's fit for purpose for RFID QC.
Voyantic participates frequently in industry events, and Voyantic website with blogs is the place where label converters seek information about RFID QC. Machine manufacturers with Tagsurance 3 integrated label machines can sign up for a marketing partnership program and display their offering on the Voyantic website, and otherwise utilize the marketing program benefits.
  Marketing Partnership Program for Machine Manufacturers
Voyantic's experts are available to help with customer communication. Voyantic can educate machine buyers about RFID quality, and RFID in general. The machine buyer can receive in-depth knowledge about RFID quality control even if the machine manufacturer doesn't invest in deep RFID expertise.
Voyantic's experts are available to explain system details, provide online demonstrations, and present details of the system. Detailed information and direct access to QC system supplier's experts will help in removing any doubts and is the first step in excellent long-term customer experience. When the machine user has a good understanding of the QC system and its operation, it is easier to make the machine purchase decision.
If new customer requirements or questions come up during machine construction,  Voyantic's experts are available to check if any changes would be needed in the QC system or its mounting.
Voyantic frequently participates on machine manufacturers' premises in system testing and advice on installation and commissioning. With Voyantic help the installation and commissioning are efficient, typically taking just a couple of hours from the beginning of the installation to the finishing of system tests.
Voyantic is available to participate in machine FAT or SAT and can offer quality system commissioning and training at the machine buyer's site. QC system result data is often an efficient way to prove the quality of the entire machine. Quality data helps in the completion of the FAT and SAT.  With Voyantic participation in the critical delivery steps, the customer receives insights into RFID QC and learns to use the system. Commissioning the machine goes smoothly and the need for future customer support is minimized.
Technical Support
Voyantic can provide technical support for the QC system directly to the machine user, or through the machine manufacturer, whichever model is the best fit for the involved parties. Direct support minimizes machine manufacturers' aftersales workload.
Extended Warranty
Voyantic can offer an extended warranty to customers. Customer risks are minimized. Voyantic plans support capabilities, spare part availability, and overall support capabilities for several years. Machine customer is kept satisfied throughout the long life cycles of the machines.
Training
During the machine life cycle, new personnel will come on board at the label manufacturer. Voyantic can provide training for new operators quality managers, production managers, and other personnel. Training content can naturally cover aspects of the QC system setup, use and result data analysis, but is not limited to the QC systems. Training content can be tailored and can include anything related to RFID.
Continuous Development
RFID technology evolves, and industry best practices evolve. Voyantic keeps developing QC systems continuously to stay at the edge of technology development. With continuous collaboration, the QC system will be kept up to date and the machine will keep meeting the new industry requirements.
New RFID label models are continuously launched. And with new models, the test recipes and quality pass/fail criteria must be adjusted. Again, Voyantic offers continuous support to the machine users and helps them to produce excellent quality with any product they manufacture.
Let's Talk!

Interested in Integrating RFID QC into your label machine? Send us a line and we'll set up a demo and discuss your needs and requirements!