RED Puts Accountability to RAIN RFID Component Vendors
RED is the Radio Equipment Directive 2014/53/EU and it applies to all radio equipment that's used in Europe. This directive was passed already in 2014 but at first there was a bit of uncertainty of how it exactly works concerning RAIN RFID. Then the ETSI EN 302 208 standard was updated to v.3.1.1. in 2016, which already addresses both the lower and upper ETSI bands – well done Brussels! That standard document put clarity into how RED is enforced concerning RAIN, and that RAIN component vendors are accountable.
RED Looks After the Interests of RAIN Vendors and End-users
At first thought one could arrive at a hasty assessment: RED is nonsense – nothing more than a cost-of-doing-business with very little reward for anyone besides testing service providers. Moreover, it adds to the cost of technology for end users and slows down the go-to-market process. Who reads 45 pages of standard text these days anyhow…
I see RED in a different light: the directive aims at utilizing the limited frequency spectrum that we have at maximum benefit to those utilizing the spectrum according to regulations. This means various radio systems can co-exist, can be relied on, and don't put the health of users at risk. And looking at the most relevant document ETSI EN 302 208, there is actually 69 pages most of which you can discard.
RAIN Tags to be Tested in Their Typical Environment
For RAIN RFID vendors it's important to understand RED testing is necessary for RAIN components, including tags and all types of readers. As I focus on tags specifically, the different nature of a RAIN tag and a RAIN tagged item needs to be considered. This is an aspect where the directive requires interpretation. Chapter 4.1 "Environmental profile" states that "The technical requirements of the present document apply under the environmental profile for the operation of the equipment, which shall be declared by the supplier".
My practical interpretation is, that if someone is providing a windshield tag, it should be tested while attached to a windshield. At the same time, it's not necessary to test the windshield tag on all the windshields in the market.
Direction of Maximum Gain is Interesting
Under "Tag Conformance Requirements" the clause 4.5.1.2 "Definition" states that
The effective radiated power of a tag is the power radiated by its antenna in its direction of maximum gain under specified conditions of measurement.
For the example of a windshield tag, the direction of maximum gain probably raises no debate.
However, as you take an on-metal tag with a resonating antenna structure and attach it on a couple of randomly selected metallic objects, you will arrive at various orientation patterns. It's, therefore, necessary for a vendor really to consider what a "typical environment" is for a specific RAIN tag type.
All Common Types of Smart Labels Need to be Tested
Back at the RFID Tomorrow event in Darmstadt 2018, I gave a presentation with a reference to RED and RAIN tags. The picture below shows what test aspects of RAIN tags RED specifically looks at.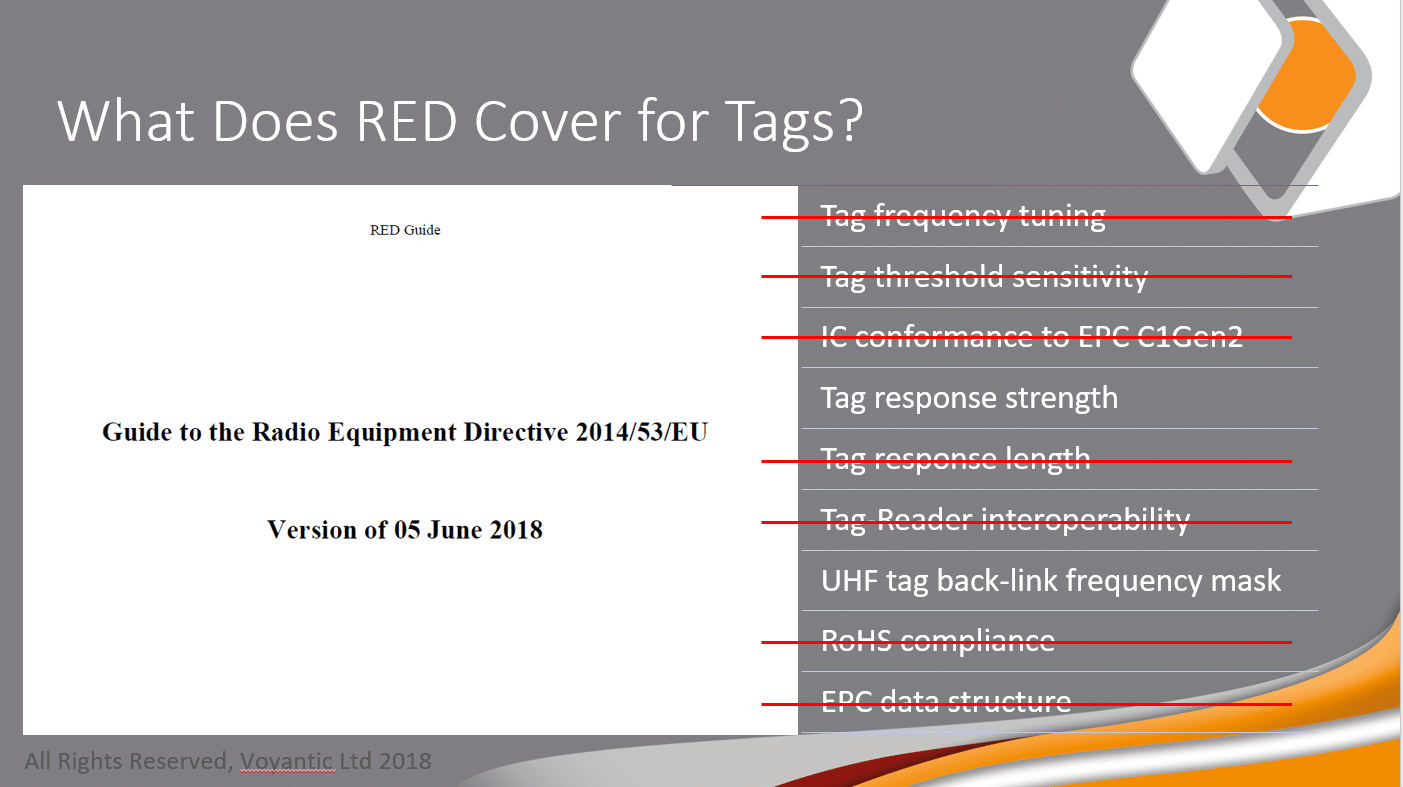 Followed by that I presented a slide "Reason for Concern". In October 2018 I thought that generic smart labels would easily pass RED tests. With the new experience gathered I today need to slightly revise my message: it's very necessary to test and make sure the backscatter signal strength stays within the limits!
How to Test for Compliance With RED?
Our superhero engineers have implemented RED tag test capabilities into the Voyantic Tagformance system. A white paper describes how tests can be conducted at different levels of accuracy. As quite many in the RAIN industry have access to a Tagformance, a system upgrade with an ETSI RED test kit brings the necessary testing capability quickly available.
The tests themselves are straightforward and even relatively quick to implement. Also, the results evaluation is made easy. The whole procedure is illustrated in a tutorial video:
Do You Have an Alternative to Following RED?
In fact, you do, because following a harmonized standard is voluntary. This path is addressed in FAQs for RED, but to paint the essence in a nutshell: Those who choose not to comply with the RED follow a conformity assessment procedure where they demonstrate to a notified body that the product complies with all the necessary requirements. The manufacturer assumes full responsibility and liability.
That's the story today. If you have any questions or comments, please contact us.
All blog posts