Roughly 1,000 attendees headed to Phoenix, Arizona this year for the GS1 Connect conference. The JW Marriot Desert Ridge provided a convenient and relaxed environment where retailers, suppliers and solution providers mingled for three days. I attended a number of sessions on the conference program and here are my highlights from select speakers.
GS1 USA: RFID Is Not a Retailer Story, but More a Supply Chain Story
The theme of the whole Connect 2018 "Accelerate" refers to the universal demand to react on customer demands faster and faster. As Dr. Brian Gibson of the Auburn University put it in his presentation: the traditional "fast or free" is today understood by consumers as "fast and free". This obviously inflicts extreme performance, efficiency and accuracy requirements on the supply chains.
As I look at this from the RFID perspective, GS1 is doing a good job in driving the RFID adoption. At the AGM Initiative Open Meeting Mr. Patrick Javick explained that technology adoption is currently facilitated in a peer-to-peer format to openly address the issues between the trading partners – underlining the fact that the benefits of RFID are essentially spread throughout the supply chain.
This also raises the question of data ownership and sharing. In his key note Mr. Bob Carpenter, the President and CEO of GS1 USA, explained how everything will be connected, and how for businesses protecting the product identity is equally important as protecting our personal identity.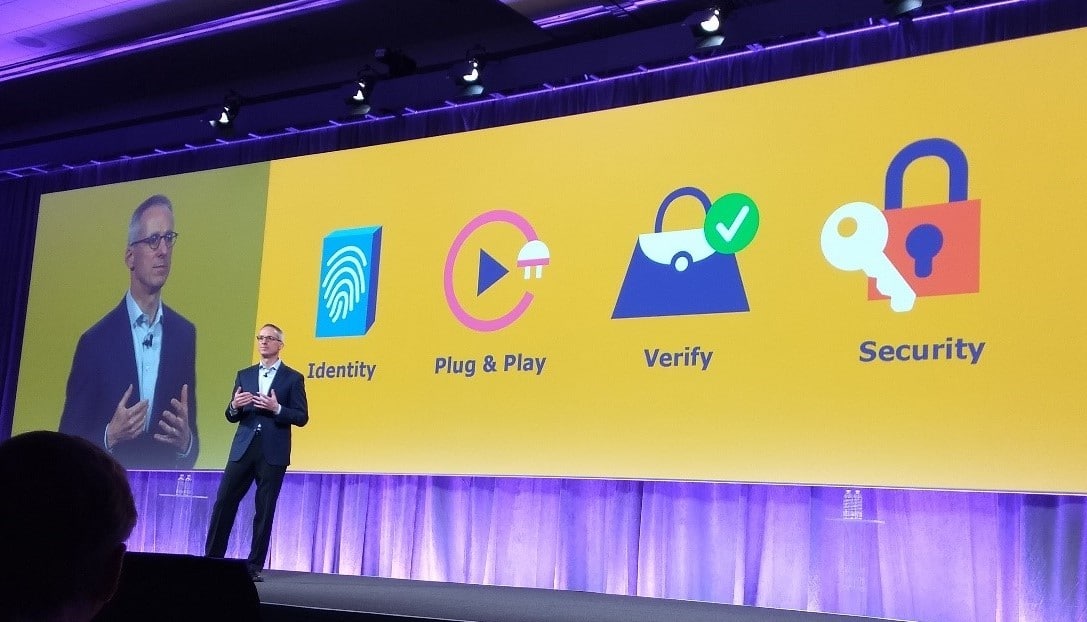 Herman Kay: RFID Makes Us a Better Supplier
Mr. Richard Haig of Herman Kay Company, Mr. Bill Connell of Macy's and Mr. Coby Sparks of J. Reneé Company joined forces to talk about the 10 ways to reduce friction in the supply chain.
From the Supplier point of view the RFID enabled improvements in Shipping Accuracy are substantial. Mr. Haig summarized that the utilization of RFID in outbound shipment validation makes Herman Kay a better supplier for their customers. The way I'm hearing this is that the better Supplier enjoys more business – and less chargebacks.
Macy's Is Leveraging Their Superior RFID Tagging Coverage
Macy's has been a beacon-like forerunner in building and eventually enjoying the benefits of shop floor inventory accuracy based on RFID. They have 100% RFID coverage of merchandise from their private brands, as well as 73% of vendor brands. According to Mr. Connell Macy's is already gearing towards to enhance Omni-Channel Fulfillment even more, and there will be enhanced personalized experience to delight the consumers in the future.
In a separate session Mrs. Pam Sweeney explained how Asset Protection is a domain that the RFID-based data is currently dramatically reshaping. There is a vast pool of added value leverage in core business processes that Macy's is additionally looking to address, such as financial inventory.
Dillard's Found DC Inbound Process Gaining Efficiencies
According to Mr. Chuck Lasley, the Director of Application Development, Dillard's is seeing quantified benefits by utilizing a tunnel reader in one of their distribution centers. The tunnel verifies inbound shipment content against Advance Shipment Notice (ASN). Only packages that don't show the expected content are routed to manual audit.
The RFID based inbound process is shown to be 3-4 times faster than the old manual process! Impressed of this pilot result and generally motivated by the experiences of other retailers, Dillard's currently says they're going to be mandating RFID tagging on first product categories within the next 18 months.
Project Zipper Quantifies Immediate Business Value for Suppliers Especially
The Auburn University RFID Lab is collaborating with selected retailers and suppliers in the Project Zipper. As Mr. Justin Patton, the ARC Lab Director, explained, the project participants share their UPC barcode and EPC RFID data on shipments across the supply chain. The data streams are then analysed to find and understand discrepancies.
The Project Zipper 1st phase report will be published soon, but the early results already show that there is a lot in the supply chains that will change as trading partners shift focus from SKU quantities to item level tracking. As the project findings are confirmed and data sharing across supply chains improved accordingly, one frequent discussion topic that many anticipate to fundamentally change tones is chargebacks.
NXP Perspective: RFID Will Be an Integral Part of the Product
Mr. Nigel Stott spoke about NXP's consumer driven approach on RFID, where RFID-enabled items bring convenience to shopping. Mobile checkouts at the shelf removes the need to line up for the checkout counters: Grab – Tap – Go! Sounds great, and is so for the retailer too, because in NXP's view the in-store mobile payment ensures 100% engagement in loyalty programs.
Mr. Stott also mentioned sustainability. As the tag will be an integral part of the retail item, the tag life time will be the same as the product life time. This opens up a whole new range of possibilities for more intelligent home appliances, such as washing machines. I'm thinking further to producer liability, recycling and circular economy, which is a rising priority on the European side of the Atlantic.
Words of Wisdom
As a Finn I was suprised and delighted during the day 3 as Dr. Tricia Wang quoted the former EU Commissioner Erkki Liikanen while talking about "Winning the Data Revolution".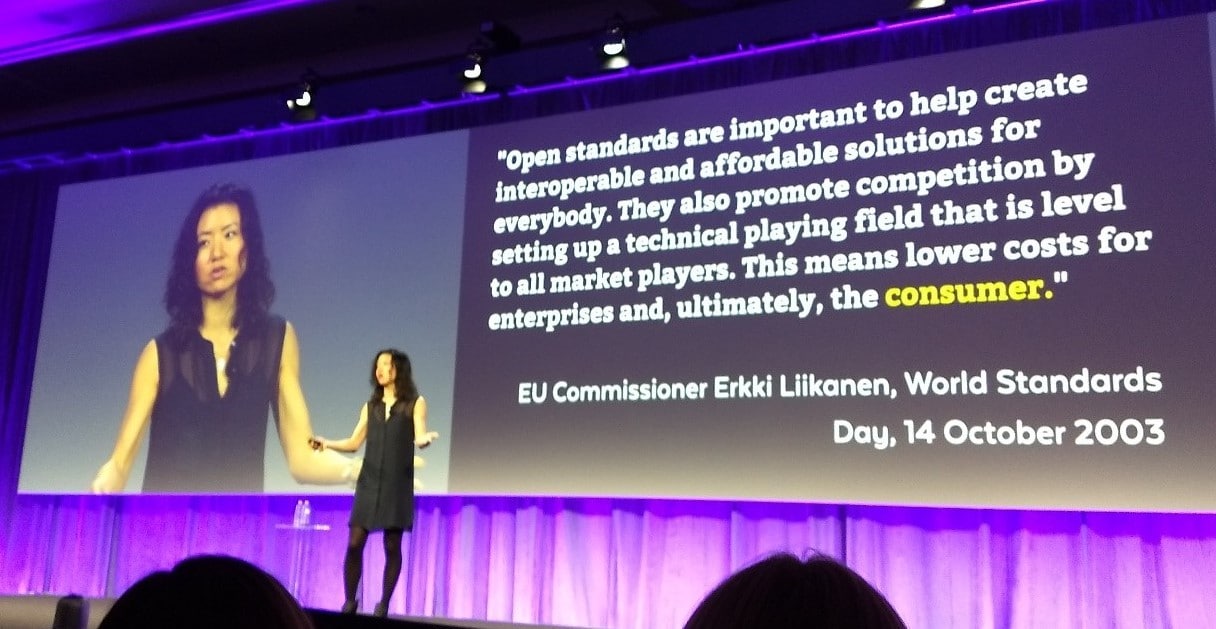 If you have any questions or would like to discuss this events or its topics, do let us know!
All blog posts