Traditional label producers entering the RAIN RFID business are faced with strategic and practical questions:
Make or buy?
When and how to invest?
Can my current production machines be utilized in the production of RAIN labels?
How can I get started?
Whom to call?
In this third blog of the series created with NXP® Semiconductors, we specifically address production machinery. Read on to learn about the machine types, what approaches to consider, and how to avoid pitfalls that would cost you time, money, and nerves.
Yes, There Is a Growing Market!
RAIN RFID adoption is growing at an unprecedented rate; with those markets that have already seen the benefits of the technology, such as retail and automotive, continuing their adoption. Other markets are emerging, for example parcel services, which is driven by the e-commerce boom.
Majority of these applications are based on RAIN enabled labels being added to the item. If you are already supplying labels to consumable products, the day will come when your customer asks you to add the RAIN labels on your supply program.
It Is Easy to Get Started with Outsourced Inlays
If you already have the ability to produce labels, adding RAIN RFID inlay on the backside of your current products would be one easy way to get started. You will need a capable inlay vendor, and you will need to teach the basics of RAIN RFID to your sales and production staff. Investments required to upgrade your current machines are modest, and inlay vendors are easy to find.
As you learn and build your customer base, it is possible later to expand your business also to cover the inlay part. At that point you will likely need to do a few new hires for development and production, as well as make investments on new machinery – the stakes become higher.
Manufacturing Process is No Magic
The manufacturing process of smart labels follows quite a standardized flow, as in the picture below. While some companies cover most of the process steps in-house, other manufacturers have assumed a more networked business model. Traceability across processes is a tremendous asset for failure root cause analysis, which is one cornerstone for enabling continuous improvement in any organization.
The three essential machine types that you should become familiar with are presented in the next picture: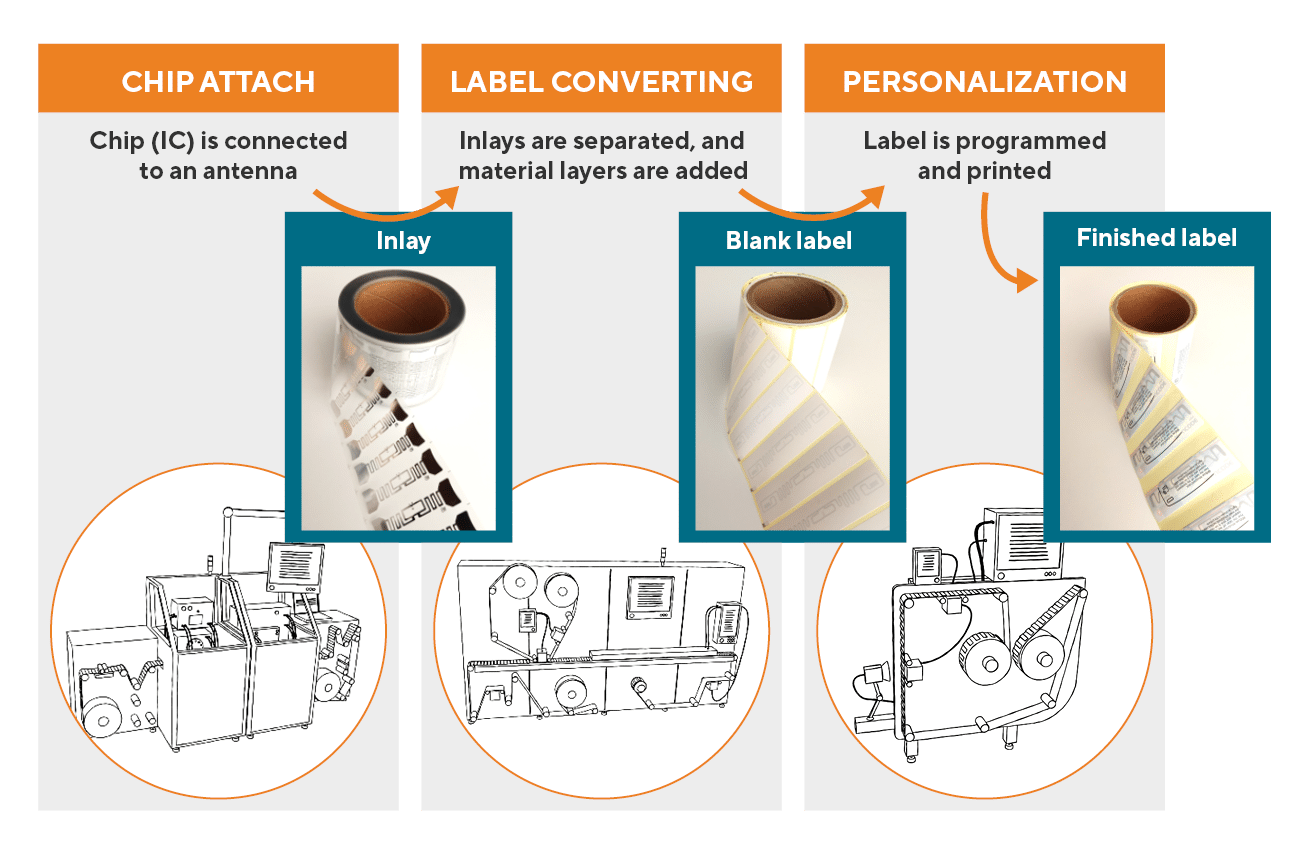 Let's understand these machine types and some of the related choices.
The IC Attach Machine Is Where the Inlay Quality is Achieved
The main technologies are flip-chip, and direct die attach. The RAIN IC placement on the dipole antenna requires high precision. Precision, combined with high line speed and sophisticated mount pressure control, makes the IC placement head the most expensive subassembly of the whole machine. You should make sure that the placement head is compatible with current and future RAIN IC's.
As you look at the machines, you will quickly realize that the number of lanes in the machines varies. Multilane machines typically have higher throughput than single-lane machines, at the expense of added machine complexity. On the positive side, a multilane machine does not need that high line speed to reach an impressive throughput, which may lead to a more straightforward technical construction on the IC placement head. If you're focusing on bulk, go with a multilane system.
A single lane IC attach machine is less complicated and thus easier to operate. It's also easier to configure for new antenna models, making it better suited for smaller production runs. The capital investment is also lower.
Three Topologies of Converting Machines
In label converting, different material layers are added on top or under the inlay. There may also be cutting and testing involved. Converting machinery is more versatile, but three separate machine families can be found:
You can have a single lane machine that runs in a continuous mode very fast. Alternatively, you have a multilane machine running slower, and even in intermittent mode. At the end of such a machine, you may have a cutting and slitting module to separate single reels from a web.
A third approach, especially for traditional label suppliers, is to start with an industrial press, and add an inlay insertion section on the machine. An outcome is a multilane machine running in continuous mode.
Personalization Makes Labels Unique
Personalization focuses on getting the data right. Data on the tag is stored both in optical and electrical forms. Therefore, most personalization machines handle both printing and RFID encoding.
While that may sound trivial, managing the data, performing all the needed data conversions correctly, and keeping all the process peripherals in sync is easier said than done. When process speed increases, you will need to pay more attention to details, such as triggering. When working with variable data, you should make sure the optical markings match the unique identifier encoded in the RAIN IC.
Got Machines Already? Consider a Retrofit
It is often possible to retrofit the needed RAIN RFID peripherals on an existing production machine. With a low capital expenditure and a short lead time you're able to pursue your first RAIN projects.
Voyantic delivers solutions to control sub processes, manage the data between the processes and keep both data and sub processes in sync. We also offer transferable bolt-on alternatives. Such frames come complete with the needed sensors, cabling and antennas, and won't require changes on the signaling of your current machine.
You don't need to figure all these details out. Let our experts talk with your machine vendor, and come up with a proposal!
---
On-Demand Webinar:
Quality Management Approaches in RAIN RFID and NFC Manufacturing
Hear industry experts share their experiences in RFID tag manufacturing and quality management. The webinar includes case examples and presentations on how to set quality goals, which standards are relevant, and best practices for quality testing — from setting up the quality program to managing the day-to-day activities.
All blog posts