Voyantic is mostly working with RFID technology providers. But I still discuss regularly with RAIN RFID users about their projects and challenges they have seen.
missing reads
stray reads
occasional faulty tags or readers
after a small change something doesn't work anymore
and so on
The smaller technical issues often have a root cause in approach to RAIN RFID, especially how it is treated from a continuous improvement point of view. Sometimes (often) RAIN RFID is seen as a one-off IT project. The initial implementation often is an IT project, but when the system is taken into use, the project should not just be signed as complete, but it should be transitioned to the relevant operational organization and under continuous improvement. From this point of RFID has its own particulars.
Already in the implementation project, the continuous use should be taken into account. During the project, it is important to establish the specifications:
specify the tags including

performance
quality
tagging

specify the readers
Create a Tag Specification for Your RAIN RFID System
When specifying, use standards such as GS1 TIPP, or other methods to specify the performance. An unfortunately common way is to specify a tag or reader model. With a rapidly developing technology such as RFID, tying systems into specific component models is not the best long term approach.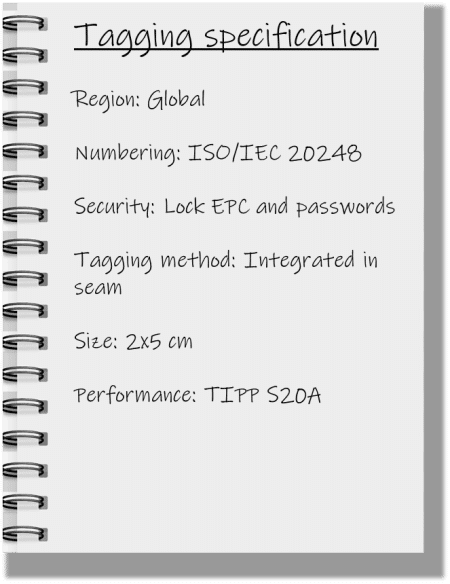 This specification is the cornerstone of continuous improvement.
Establish Continuous Improvement and Problem-solving Practices
In several discussions, I have shared a version of a below continuous improvement outline. Let's build the model step by step to see what it means in RAIN RFID use.
Let's start with the basic: Do, Measure, Improve cycle.
When this is translated into the world of RAIN RFID use, the elements could be described as in below picture. The specification is the cornerstone of the continuous improvement cycle.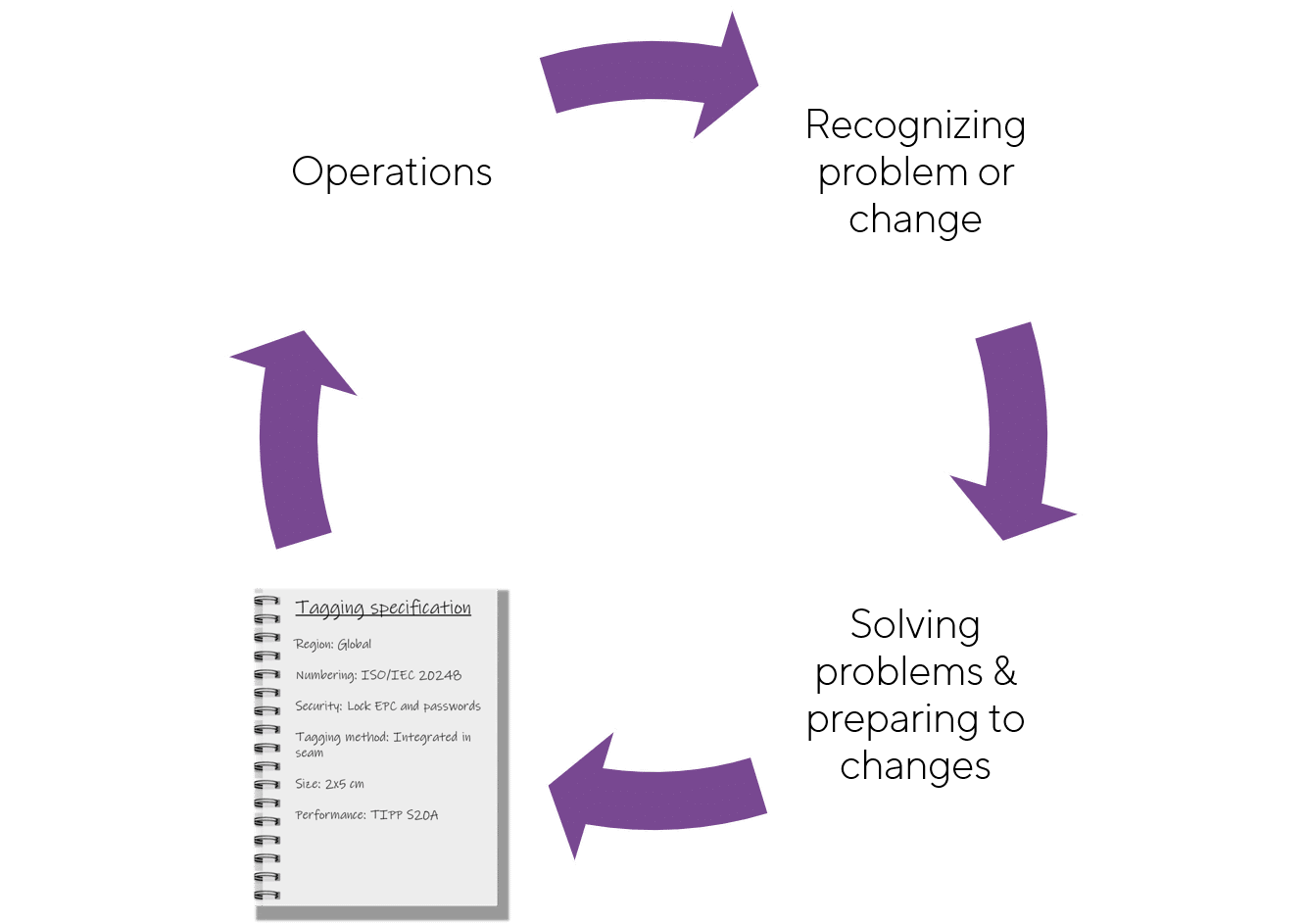 Next, let's add some details:
Operations refers in this case to the RFID related operations. In-house operations related to RAIN RFID are reading the tags and possibly writing the tags, And then depending on the make or buy decisions, items are tagged, and someone is manufacturing the tags. All of these actions should be based on the specification: What are the tag requirements, how the items are tagged, how the tags are read.

When any system is used long enough, something changes. These changes should be reflected as changes in the specifications.
The changes and problems can be noticed reactively, that is: User notices that something is wrong, for example, missing reads in inventory counting, and reports the issue through proper channels.
The changes can be recognized proactively: There can be various checkpoints in the process and change implementations. Tagged items can be randomly tested; tags can be tested, new tag suppliers can be evaluated, etc.
If a proactive approach is used, suitable test methods need to be applied. The right approach is to have an in-house RFID test lab.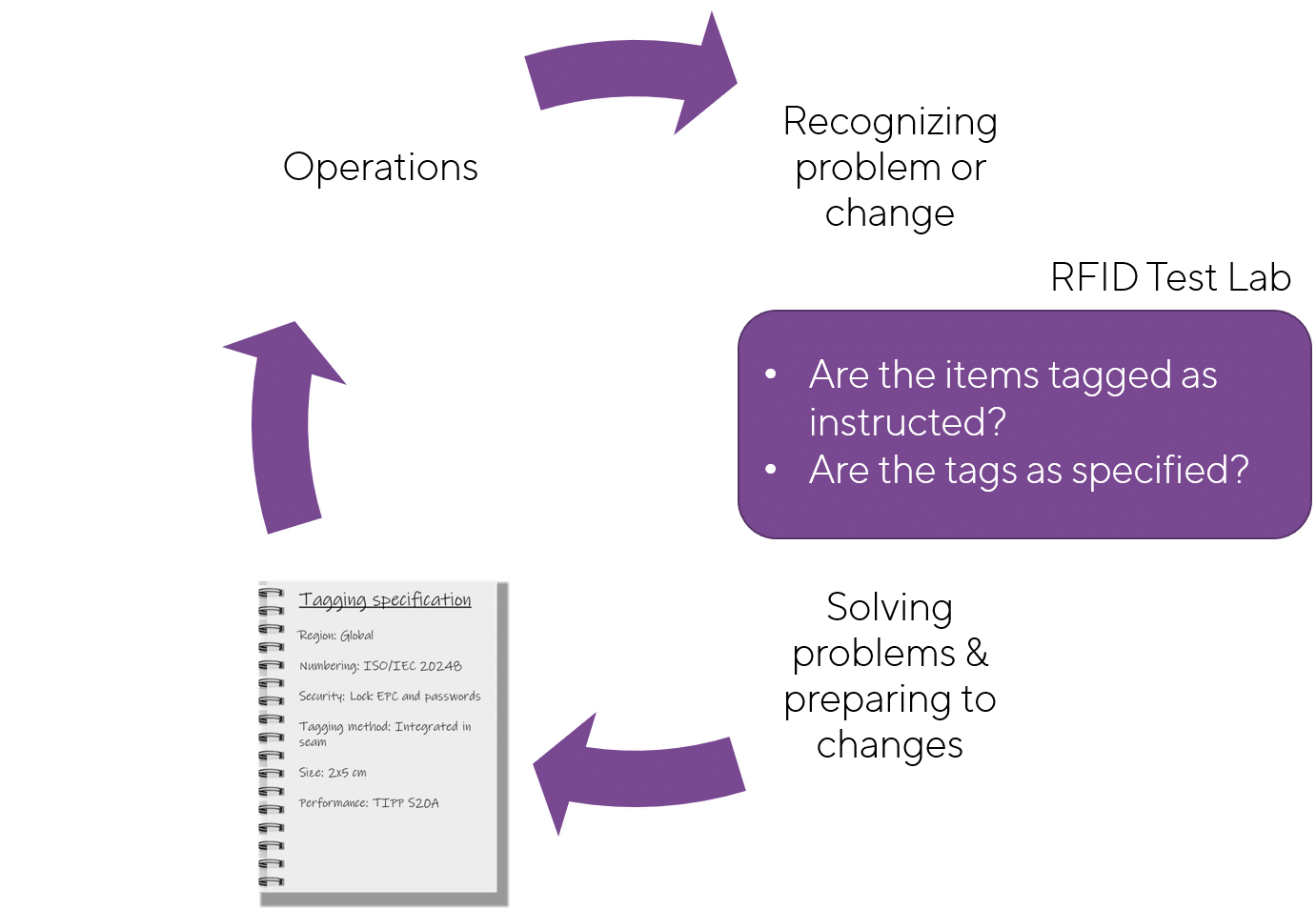 The same RFID test lab can also be used in problem-solving.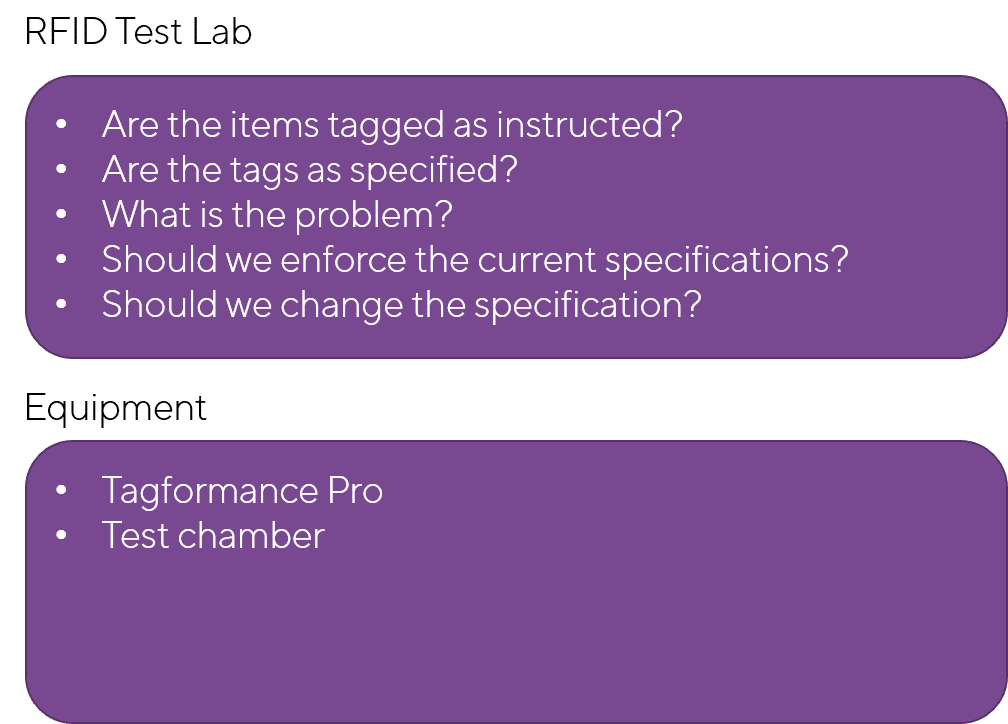 Implementing continuous improvement processes during the RAIN RFID implementation project helps to get the most out of the technology and investment. Transferring the RAIN RFID solution with development practices from project organization to operations ensures successful long term RAIN RFID use.
If you would like to discuss your RFID implementation or learn more about possibilities to set up an RFID lab, please contact Voyantic and request an online demo.
All blog posts