I saw my first combined UHF RFID-NFC apparel label at a trade show several years ago. I remember wondering what the reason for this combination was. After all, UHF RFID is primarily used in the business-to-business world of retail: supply chains, inventories, point-of-sale, etc. NFC, on the other hand, is used in the business-to-consumer interface: in retail, primarily brand enhancement. Could there be a reason to combine these two technologies?
The label sales guy politely explained to me that the reason for the combined label was precisely that, addressing both the B2B and B2C needs at once. Since the apparel supplier is already required to tag all his products with UHF RFID to accommodate the retailer's inventorying needs, why not put in NFC as well?
The Cost
Of course, there is an added cost of adding NFC functionality to a label. But the supplier is already purchasing labels. There is a process in place for attaching the labels to the garments, and, hopefully, there is already some kind of quality assurance process. Ideally, adding NFC functionality costs little more than the additional cost of the NFC inlays.
The Benefit
But what do the apparel suppliers, or better the brand owners, get out of this? They get a chance to use the store as their marketing media. As a consumer taps a product label with an NFC enabled smartphone, they are taken to a dedicated web page where the brand owner can interact with them. The consumer may receive detailed information about the product, or they may be offered promotions for that specific product or other ones. The possibilities are endless. Besides, the brand owners gain information about who is interacting with the products and when each can be used for planning future marketing activities.
Latest Developments
The combined UHF RFID-NFC label that I saw years ago was based on separate UHF RFID and NFC inlays. But at the beginning of this year, EM Microelectronic launched a new product that could change this approach. The EM4423 is, according to their own words, "the world's first RFID circuit featuring a UHF EPC Gen2V2 RF and an NFC Type 2 interface". Several tag manufacturers are working with the chip, and we should expect to see new exciting products by the end of the year.
What Does the Convergence Mean for RFID Testing
Combining two antennas into a single tag adds a new layer of complexity. The UHF part should work with all RFID readers: handhelds, gates, POS, and so on. And NFC should be conveniently usable for consumers with their various smart devices. Optimizing tag design for both needs is more demanding than designing a single frequency tag. Also tagging the items must be reconsidered: tag placement must serve reliable inventory counting and allow convenient consumer access.
My company Voyantic's focus has always been in performance and quality testing of RFID components, both UHF and HF/NFC. Lately, we have seen more and more companies developing and using UHF RFID and NFC technology side by side. To better serve our customers, we have been working the last couple of years to build a test system that would allow testing both of these technologies. Our goal has been to enable the rapid development of new, cost-efficient tag designs and to deploy them into a reliable system.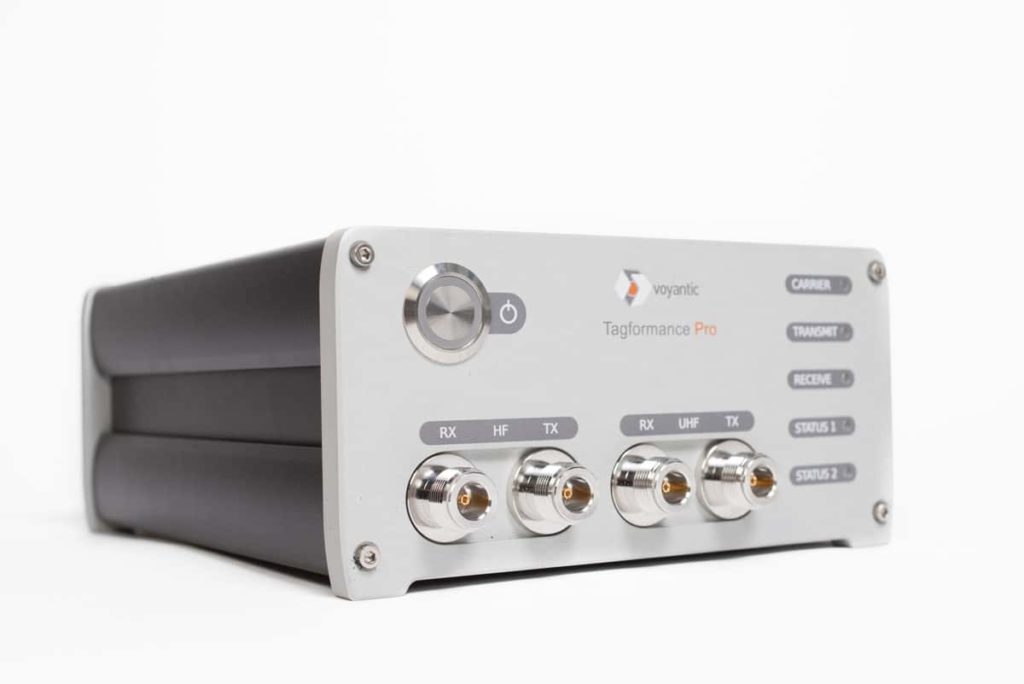 Tagformance Pro combines UHF and NFC tag testing into one device. The Tagformance Pro supports tag design, tag selection, and planning of tag placement – both UHF RFID for inventory and supply chain and NFC for the consumer interface. Tagformance Pro is a real all-in-one tool for anyone either developing or using RFID technology.
Download the Tagformance Pro Catalogue
Learn more about the Voyantic Tagformance® Pro Test Device! By combining RAIN RFID and NFC testing into one compact test device, our all-new Tagformance Pro is a true all-in-one tool for anyone either developing or using RFID technology.
All blog posts