I work as an engineer at Voyantic and my main fields of expertise are electronics and radio science. Last autumn I started studying business administration to get a wider perspective in general. I have been trying to tie my work and studies together as much as possible, and when I attended a course called "Future experts 2030", I got the idea to look into the future and see what it might bring for the RFID industry. More specifically: I tried to pick some trends which would have the most impact on the growth of the RFID industry.
Of course, there are a lot of possibilities, but I chose to take a closer look at five megatrends:
The development of science and technology
Overconsumption of resources
The amount of waste increases
Population growth and the aging of the population
The development of healthcare
Those megatrends were put on a future radar and some important elements were added for each sector.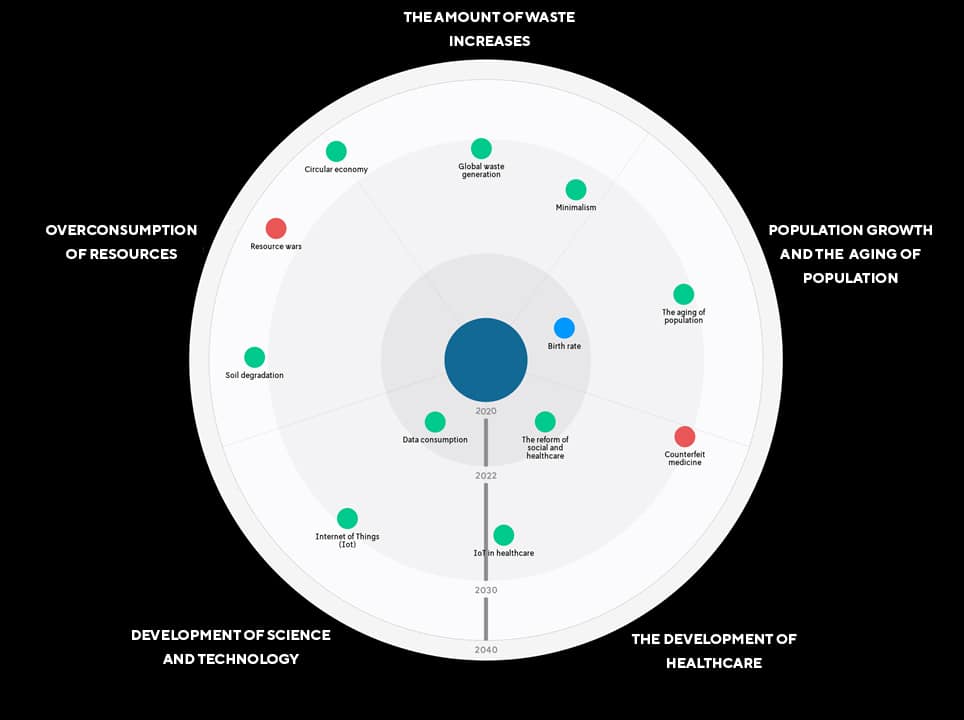 The further from the center the elements are, the weaker their effect is in the present time. The colors represent the trend of the elements:
Green: Strengthening
Blue: Weakening
Red: Wild card
Let's look into these trends and see what they have to do with RFID.
The development of science and technology
RFID technology is developing rapidly all the time, no doubt about that. My colleague Teemu wrote a blog post about the recent RAIN RFID research topics a while ago and listed some interesting topics there. However, if we look at the big picture it is not surprising that other technologies are also developing, and some of those are competing with RFID.
Since RFID enables items (or "things") to be identified by systems run by computers, it is naturally one of the technologies used by IoT. For example, retail stores can use RFID for automated and real-time inventory. But when we think about identifying an item, is it enough to just know what it is? Wouldn't it also be nice to know where it came from?
Hospitals can trace people and equipment with RFID tags, and I believe that this kind of traceability would make RFID much more valuable in some cases. That would require that different systems would be able to communicate with each other and pass tag information from one operating environment to another. For example, responsibility is nowadays an important aspect and companies could benefit from more transparent value chains.
Looking from a different perspective, the data consumption in the world keeps increasing exponentially and the data provided by RFID is adding to that. This requires continuously more from the data transfer networks and memory storage. This also brings data management challenges for the RFID systems.
Population growth, aging, and the development of healthcare
In western countries, the population is aging and the lifetime expectancy keeps increasing. The importance of healthcare will also grow while the workforce shortage problem gets worse. Since the amount of work increases, system and service automation should be made effective. This development is fortunately already quite far, as can be seen from another one of Teemu's blog posts.
More and more medicines are used globally, and online shopping for medicine is also growing. This could attract more counterfeit medicine to the market, and that is something RFID could be used to prevent. Medicine traceability would make it harder for counterfeit medicine to reach the market, which increases the security of the medicine market.
Overconsumption of resources and the amount of waste increases
The overconsumption of resources is a well-known problem around the globe and so is the amount of waste the human population creates. The more we spend, the worse it gets. In the future, soil degradation might prove to be a serious problem for agriculture, and a shortage of raw materials for the electronics or construction industry could be a crippling problem.
For example, in retail, physical waste is created when inventory is not up to date or there are problems in the logistic chain. This causes:
Items to go out of date (or fashion)
Too many items are ordered
Items are lost
RFID is a well-known answer for an automated inventory and the retail industry has adopted it quite nicely.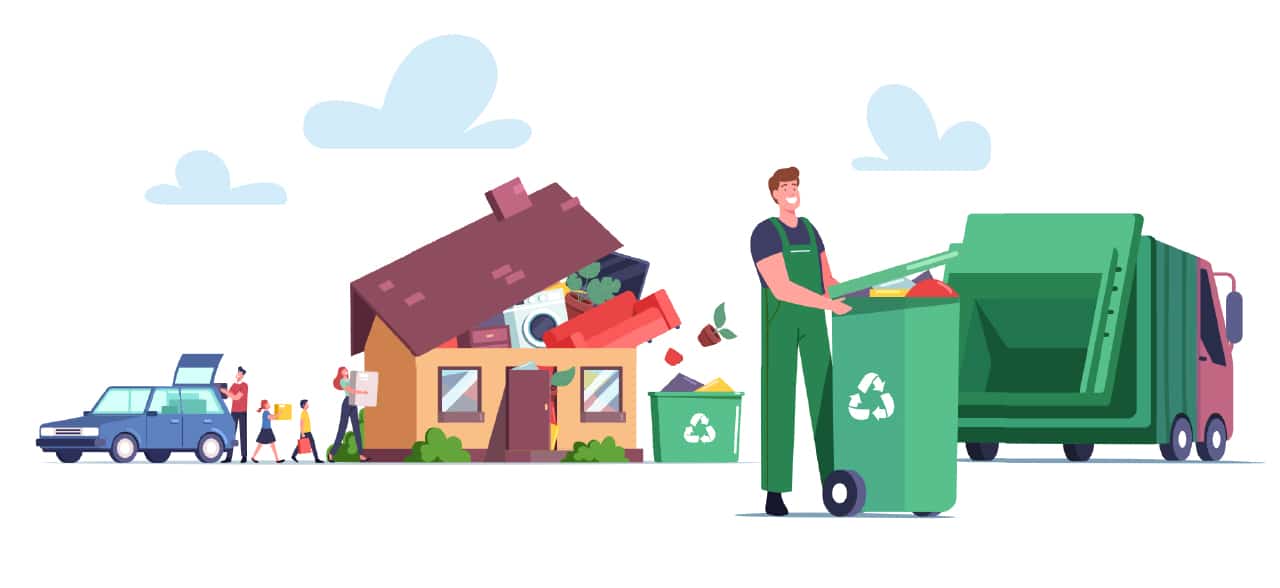 What is needed from the RFID industry?
To be able to offer reliable solutions for the problems, the RFID industry needs to overcome some obstacles. One well-known bottleneck is the tag manufacturing capacity; the world has not enough capacity to manufacture tags if every retailer suddenly demanded every item to be tagged. We have to pump up the tag manufacturing numbers to be able to answer the growing demand.
Putting up the infra to enable the benefits of RFID is not cheap and requires investment, but I'd like to raise an equally important aspect to overcome. It's not easy. The end users might not be experts in RF and they do not want to buy the RFID infrastructure. What they want to buy is the automated inventory, which just happens to be enabled by RFID technology. And they need help with that. RFID is not magic and has its limitations that need to be considered. That is why I believe the help provided as a service creates quite much value for the customers and should not be overlooked.
I also believe that it is a problem that different RFID environments do not communicate with each other. It means that the traceability of a tag is cut when it moves from one environment to another. To overcome this issue, the companies could work together and create a standardized system for tracing tag data.
All in all, the RFID industry is in a good position, and seems like the demand for RFID solutions remains high in the future. Hopefully, the COVID-19 pandemic will not cause too much setback for the development of RFID technology due to companies investing less in new systems.