I think this was my 11th time at the RFID Journal Live! show. For me the show is mostly about meeting a lot of customers and partners during a highly effective couple of days. And that's true for this year's show as well – the show was good for us. Unfortunately, though, the number of exhibitors seems to be going down, as is the number of people visiting the exhibition. It seems that many companies are focusing more on shows that target specific vertical markets. At the same time, as I already wrote after last year's show, we are seeing less and less significant, new technical advancements at the show.
Every year I plan to attend more conference sessions, but then I always end up spending most of my time at the exhibition – where our customers are. So, I have to rely on what I heard from other conference visitors: There is nothing particularly new in the conference presentations either. We just have new retailers telling about implementations that are similar to the ones presented by someone else the previous year. And I get it: these presentations are not meant for me but for all the new potential users of RFID. Nevertheless, I think there is a valuable insight to be found:
RFID is business as usual!
Retailers or other companies implementing RFID don't want to see new innovations presented every year. They want to see steady technology that just works – not promises of something that will be ready in two years, maybe. So nothing new is good!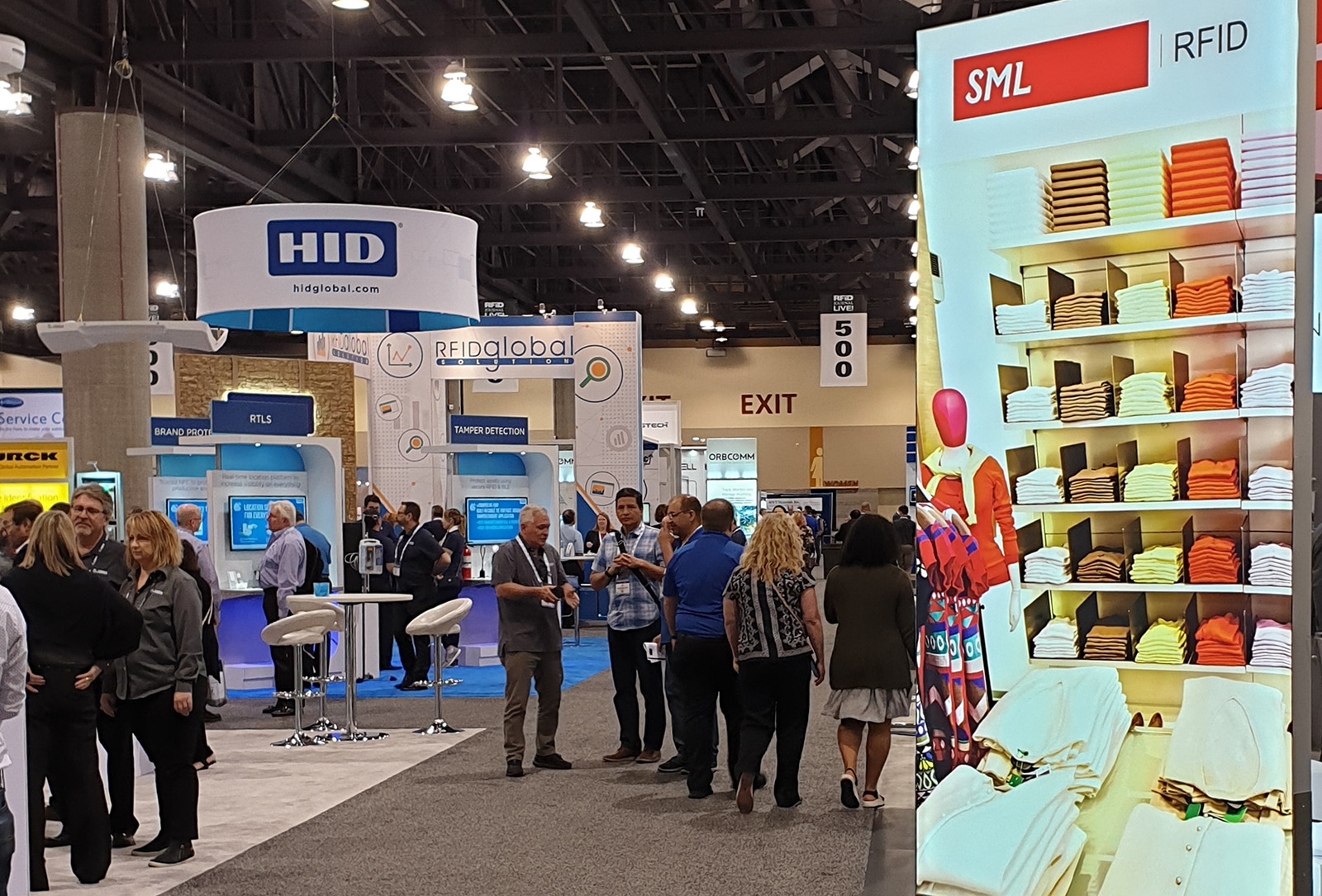 Buzzword: Sustainability
Every year there are some new trends among the companies exhibiting and presenting at RFID Journal Live! Sustainability seems to be the latest buzzword, especially among tag manufacturers. It was present in tag manufacturers' presentations, and words such as 'eco-friendly' and 'sustainable' were visible at their booths. It seems, though, that the companies mean many different things with the word: they may be using paper instead of PET as a substrate, or they may experiment with antenna manufacturing techniques that do not require etching. Or they just want to ride the latest wave and put 'sustainability' in their PowerPoints.
Localization Systems Winning Awards
RFID Journal Awards recognizes annually the best RFID implementations and new products. Being a geek, I am mostly interested on the new product side. This year's best new product nominees leaned heavily towards the reader side, and especially real-time localization systems (RTLS). Through rough categorization, I would say half of them were non-reader related: a printer, a cable, a high-heat tag, and cross-compatibility for RFID, NFC and IoT. The other half I consider to be more or less reader-related: a wearable reader, a handheld reader, an overhead reader system, and two RTLS systems. This year's winner was RF Controls' CS-445B passive RTLS antenna.
But that was not the only award-winning localization system. As always, I attended the co-located IEEE RFID conference as well. They also give out an award to the best paper. This year, the award went to a paper presented by Cheng Qi from Georgia Institute of Technology, titled: "Breaking the Range Localization Limit of RFIDs: Phase-based Positioning with Tunnelling Tags". Seems like I should be paying closer attention to what is going on on the localization side.
All blog posts